Donation Ideas
The donation suggestions below are easy to do and require little or no effort to do.
If you would like to hold a fundraiser for the IFOPA, please click here.
Mathcing Donations Through Your Employer

Many companies encourage employees to donate to the charity of their choice. Contact your company's Human Resource Department for more information about your employer making a contribution to the IFOPA that matches your donation.
Donate Through United Way
Note: If donating through the United Way, please designate the IFOPA under the "Donor Option" section of your pledge card. Simply write the following in the blank provided: "International FOP Association (IFOPA), P.O. Box 196217, Winter Springs, FL 32719" If you need help making a donation through United Way please contact the IFOPA office.
Gift-In-Kind
Donate auction items! The IFOPA can always use items to auction at fundraisers or give away as prizes for drawings. Items of interest include, but are not limited to: Travel packages; airline gift certificates, frequent-flyer miles, tickets to national sporting events, sporting memorabilia, current computer and communication devices. To download a Gift-In-Kind form click here and please contact us to donate!
Donate your used printer cartridges or old cell phone to FundingFactory and help the IFOPA!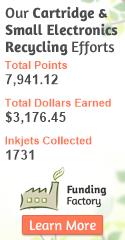 Please consider collecting used cell phones and empty printer cartridges within your company to benefit the IFOPA.
This is a simple fundraiser that helps subsidize the IFOPA's budget. The IFOPA utilizes the FundingFactory Recycling Program to recycle collected cartridges and cell phones. The program features FREE prepaid shipping labels, online accounting, and a business component that enables companies and individuals to collect cartridges and cell phones in support of our efforts.
Benefits:
Environmentally friendly disposal of printer cartridges and cell phones
Community recognition for recycling efforts
Continual support to the IFOPA without extra cash donations
How It Works
All laser and inkjet cartridges as well as cell phones collected through this effort are sent to FundingFactory, a company based in Erie, PA, that offers the nationwide recycling program. When the boxes arrive at FundingFactory, the items are inspected and the value for each collected item registers in our online account. The IFOPA will be able to login to its account anytime to view its returns, order more boxes or request a check for our earnings.
Please visit www.FundingFactory.com for more information about supporting the IFOPA through FundingFactory's Business Support program. If you choose to register, please identify ID number 125760 as the beneficiary organization -- that's the IFOPA.
If you have any questions about this program, please contact the IFOPA office.